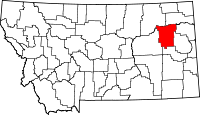 For its rich lands and fertile soil, McCone County consisted primarily of ranchers and farmers when founded in 1919. It was named in honor of state senator George McCone. McCone is also known for its beautiful landmarks such as the Fort Peck Dam And Fort Peck Lake that is nationally recognized as a hot spot for walleye fishing. The lake also offers excellent fishing for sauger, smallmouth bass, lake trout, chinook salmon and northern pike.
McCone is bordered to the south by Prairie and Garfield Counties, to the east by Richland and Dawson Counties, and to the west by Garfield County. Circle is the single incorporated community in the county and also the county seat. Other communities include Brockway and Vida. Today McCone is home to approximately 1,734 residents.
Great and useful info for the area.