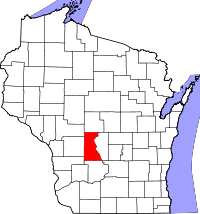 Originally home to American Indian tribes, Juneau County was first settled in the 1830s as trading posts were established throughout the area. It was organized from Adams County in 1857 and Mauston was selected as the county seat. Early residents raised wheat, tobacco, corn and cranberries, and ample timber supplied the sawmills that were established along the local rivers. Development of the railroad allowed for growth and by 1900 its population had reached 20,629. Today Juneau County is home to approximately 26,451 residents.
Great and useful info for the area.
24×36″ Wall hanging poster for the Adams-Juneau area.