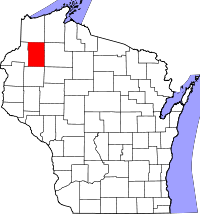 Once home to Sioux and Chippewa Indians, Washburn County was settled in the 1860s. Loggers began to arrive to harvest white and Norway pines, and waterway ports utilized to transport lumber became communities. Shell Lake was selected as the County Seat and as industry diversified, the area continued to grow and develop. Between 1900 and 1910, the population of Washburn County grew from 5,521 to 8,196. The many lakes located within Washburn County made the area a popular tourist destination and now is recognized as the Walleye Capital of Wisconsin and home to the largest Muskie hatchery. Today Washburn County is home to approximately 16,712 residents.
Great and useful info for the area.
Great local deals just waiting for you.
All the cities in the county and links to their sites (if available)
Get all your trail info here. Atv, Bike, Snowmobile, Equestrian, Cross-Country Skiing and more.
Get out and enjoy what Washburn County has to offer
Need to know how to get ahold of certain services within Washburn County? Here's your go to spot.
A nice central location to see all parks and recreational options are in Washburn County.
If you really want to know what stands out in this area local attractions look no further.
Get your hunting, fishing, cross-country skiing and other passes/licenses in these locations.
Here's the scoop on the hunting seasons for this county.
Get your fishing on at the right time. Here are the details on the fishing seasons.
All the trapping dates you'll need to know are right here.