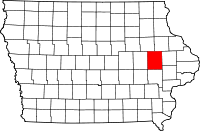 First home to Sac, Fox and Winnebago Indian tribes, Linn County was established in 1839 with Marion as the county seat. Early settlers were attracted to the ample natural resources and power of the Cedar River. Named in honor of Senator Lewis Linn of Missouri, Linn County grew slowly until the arrival of the railroad in 1859. Cities and towns were established near railways and waterways and Linn County continued to thrive. The first rail lines were built in Cedar Rapids and the area grew dramatically, becoming an industrial and commercial trading center. Early industry included agriculture, manufacturing and milling. In 1900 the population of Linn County reached
55,392 and the county seat was moved to Cedar Rapids in 1919. By 1950 the area had grown to over 104,274. Today Linn County is home to approximately 208,574 residents.
Great and useful info for the area.
Great local deals just waiting for you.