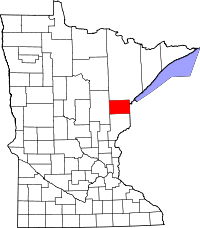 Carlton County was named in honor of Reuben B. Carlton, one of the first settlers in the area and first Senator in the Minnesota Legislature from the district. Carlton county was established in 1857 and the village of Carlton was named the county seat in 1886. Carlton County includes some of the area of the Fond du Lac Reservation, which includes the Lake Superior Band of Ojibway. Like Pine County to the South, Carlton County was established as a major lumber area due to the extensive forests of pine trees in the area, however much of the county was destroyed in 1918 with the Cloquet Fire. Sparks from the railroad set dry grass ablaze, killed hundreds of people and destroyed many of the historic buildings Carlton County was known for. After redevelopment, Carlton County has become known for its scenic wildlife, parks and proximity to Highway 35. Today Carlton County is home to approximately 33,933 residents.
Great and useful info for the area.
Great local deals just waiting for you.